Advantages of potassium polyacrylate for potatoes
Potassium polyacrylate improves soil's ability to hold water In the root zone and then release it to plants As they need it.
Potassium polyacrylate has also been shown to increase nutrient levels In leaf petiole samples.
Should be applied at 7 lbs per acre, in-furrow, with potato seed pieces, or at spring mark out before planting.
Potassium polyacrylate has no toxic components In the soil like plant residues.
Contents
Othello, WA-Russet Burbank Potatoes
General trial information
Location: Othello, WA
Crop: Potatoes
Rate of potassium polyacrylate: 7 lbs per acre
Application: Applied In furrow at planting
Harvest: Replicated trial samples harvested By hand
Yield Results
| | | | | |
| --- | --- | --- | --- | --- |
| | Field | Untreated | Treated | Increase |
| Total Lbs | Hendricks Road | 159 lbs | 173 lbs | 14 lbs |
| Tons/Acre | Hendricks Road | 38.68 Tons | 43.371 Tons | 3.51 Tons |
Hermiston, OR - Premier Potatoes
General trial information
Location: Hermiston, OR
Crop: Potatoes
Rate of potassium polyacrylate: 7 lbs per acre
Application: Applied In furrow at planting
Yield Results
| | | | | | | |
| --- | --- | --- | --- | --- | --- | --- |
| | Total Yield | Total Usable | Min 4 oz | Min 6 oz | Min 10 oz | Min 14 oz |
| Untreated | 37.55 Tons | 91.9% | 17.4% | 30.9% | 24.7% | 18.2% |
| Treated | 40.9 Tons | 94.9% | 10.2% | 30.8% | 26.9% | 27.0% |
| Difference | +3.46 Tons | +3.8% | -7.2% | -0.1% | +2.2% | +5.8% |
Mt Vernon, WA - Chieftan Red Potatoes
General trial information
Grower: Sterling Potato
Location: Mt Vernon, WA
Crop: Potatoes
Variety: Chieftan Reds
Rate of potassium polyacrylate: 7 lbs per acre
Application: Applied In furrow at planting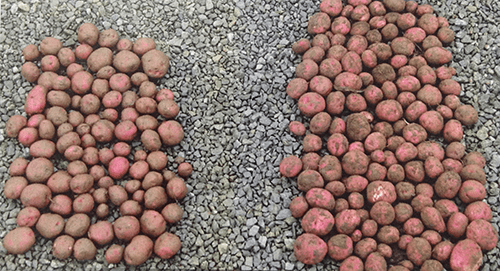 Yield Results
| | | | |
| --- | --- | --- | --- |
| | Treated | Untreated | Increase |
| Total Culls | 0.0% | 1.8% | -1.8% |
| <1-7/8" | 3.1% | 3.4% | -0.3% |
| 1-7/8" to 2.25" | 13.6% | 22.4% | -8.8% |
| 2.25" to 2.5" | 22.7% | 29.0% | -6.3% |
| 2.5" to 2.75" | 9.1% | 13.3% | -4.2% |
| 2.75" to 3.0" | 36.6% | 23.8% | +12.8% |
| 3.0" to 3.25" | 3.5% | 3.3% | +0.2% |
| 3.25" to 3.5" | 8.9% | 2.9% | +6.0% |
| >3.5" | 2.5% | 0.0% | +2.5% |